Pamela Emmerling - Velvet gloves and thick skin - towards a successful communication
Not being able to assert oneself with what one wants to say is a problem. Having to keep apologizing for the effects of one's words also is a problem. The right dosis between strength and consideration is in constant need of re-negotiation. Die richtige Dosis zwischen Stärke und Rücksicht muss ständig neu verhandelt werden. The controlling element for this process is called empathy.
The tool box of communication offers interesting tools for this and we want to develop the together. Not everything is valid for everybody, therefore, everybody should be able to develop his/her very own manual.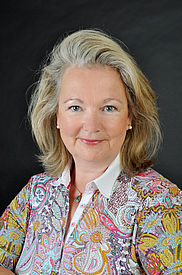 Pamela Emmerling, born in 1957 in Bochum. studies in Freiburg and Düsseldorf, teaching appointments at Highschools, director of a department for the highly gifted at a Nothern gGrman further education provider. Lecturer at German Medical Associations, since 2003 lecturer at an Austrian provider of further education courses. Autor of scientific publications in the field of education. Certified practitioner in Psychotherapy, studies of Psychosynthesis, founder of a Center of Studies near Hamburg. Keynote Speaker at Congresses, coach für surgeries und clinics, regualr lecturer for a Federal Ministry. Publication of scientific books, e.g. Ärztliche Kommunikation (2nd ed., Thieme Verlag).